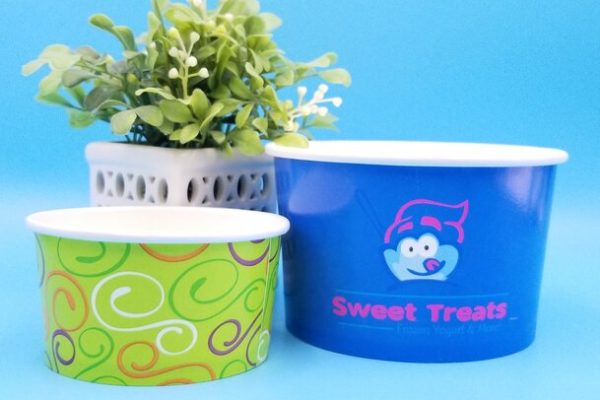 Does your ice cream parlor, frozen yogurt shop, or restaurant need a branding upgrade? Whenever a customer experiences a "Wow" moment with your food, your brand should be front and center. Considering the fact that dessert is everyone's favorite part of a meal and soup is something to look forward to on cold days, advertising with your soups or desserts is a no-brainer.
Budget Branders can help you print your logo or design on your cups for the world to see! These dishes are double PE lined for cold products and single PE lined for warm products to ensure they function as well as they look. Our high quality cups are the perfect canvas for your logo or design. Great for Ice cream, gelato, soup, food bowls, and frozen yogurt. Let the customers do your marketing for you by showcasing your amazing dessert or food in a properly branded, 100% recyclable container.
Custom Branded Dessert/Soup Cup Product Details
Cases are 1000 Cups. There is a 10 case minimum for this product.
Available with a double PE lining that works perfectly for frozen products and a single PE lining for warm products.
Wide variety of lids available.
Look good? Click the LIVE CHAT button to get your FREE quote and artwork proof!
Custom Soup & Dessert Cup Pricing
Below is the pricing table for custom-printed dessert and soup cups. Custom printing is $50 per color.
| Item | Sizes | Price per Unit | Price per 1000 (Case) | Discount (25+ Cases) | Discount (50+ Cases) | Discount (100+ Cases) |
| --- | --- | --- | --- | --- | --- | --- |
| Custom Printed Paper Food Bowl | 3 oz | $0.089 | $89.00 | 10% | 15% | 20% |
| Custom Printed Paper Food Bowl | 4 oz | $0.094 | $94.00 | 10% | 15% | 20% |
| Custom Printed Paper Food Bowl | 5 oz | $0.099 | $99.00 | 10% | 15% | 20% |
| Custom Printed Paper Food Bowl | 8 oz | $0.139 | $139.00 | 10% | 15% | 20% |
| Custom Printed Paper Food Bowl | 10 oz | $0.149 | $149.00 | 10% | 15% | 20% |
| Custom Printed Paper Food Bowl | 12 oz | $0.159 | $159.00 | 10% | 15% | 20% |
| Custom Printed Paper Food Bowl | 16 oz | $0.179 | $179.00 | 10% | 15% | 20% |
| Custom Printed Paper Food Bowl | 20 oz | $0.189 | $189.00 | 10% | 15% | 20% |
| Custom Printed Paper Food Bowl | 22 oz | $0.199 | $199.00 | 10% | 15% | 20% |
| Custom Printed Paper Food Bowl | 26 oz | $0.219 | $219.00 | 10% | 15% | 20% |
| Custom Printed Paper Food Bowl | 32 oz | $0.239 | $239.00 | 10% | 15% | 20% |
Why Choose Budget Branders For Custom Printed Paper Food Bowls?
The containers you use to serve food will be a reflection of your brand. The last thing you want is to compromise your brand image with cups that bend, break, or are easily compromised when exposed to liquid. Budget Branders not only offers the most competitive prices on the market, but also only sells cups manufactured with the highest quality materials.
When you work with Budget Branders, we'll do everything in our power to ensure that you walk away satisfied with your order. We take great pride in offering exceptional customer service and support. As branding experts, you can trust us to help you expand your brand reach and exposure.
Who Could Benefit From Having Branded Dessert Cups Or Soup Cups?
While we serve businesses in a number of different industries and will produce food bowls for just about anyone, we have found there are a few select businesses that greatly benefit from having custom-branded dessert cups or soup cups with a logo. Business that gain the most from custom-branded desserts and soups include:
Ice cream shops looking to expand their brand reach with custom ice cream cups
Frozen yogurt shops looking for custom yogurt cups
Acai and smoothie bowl shops wanting to grow their brand presence
Restaurants in need of take-out supplies
Soup shops with a need for better branding
Bars in need of take-out supplies
Coffee shops looking to take their branding to the next level
Boba tea shops in need of take-out supplies

Corporations in need of dessert cups for corporate conferences and events

Sports complexes and convention centers that serve desserts (we also offer custom-printed stadium cups)
Branded Dessert Cup & Branded Soup Cup FAQs
Does Budget Branders Accept International Orders?
Yes, Budget Branders proudly serves restaurants, bars, coffee shops, and other businesses around the world. We can ship products internationally, but there may be an increase in shipping charges depending on your area. To find out what shipping would cost for your area, submit a quote request online.
What Styles & Colors Are Available?
Designs for our dessert and soup cups are printed over a white plastic background. We can print any color within the range of 4-color process printing (CMYK). This means virtually any color can be used in your design.
Are The Custom Food Bowls Recyclable?
Yes, our food bowls are made with two layers of paper coated with polyethylene. They are 100% recyclable in cities that accept disposable paper cups for recycling (The PE lining can be more difficult to recycle than paper or cardboard).
Are The Dessert Cups Freezer Grade?
Yes, our frozen dessert cups are designed to last in a freezer, in a microwave, and everywhere in between. They work well as ice cream cups or cups for any other form of frozen dessert. Nevertheless, it's always recommended that our products be tested for your specific application to ensure they will work well.
How Our Order Process Works
Our process is designed to be simple so that you can get the products you need without any hassle. The process can ultimately be broken down into four simple steps.
Once you submit a quote request, we'll use your information to provide you with a quote.
If you like the quote and want to move forward, we'll then ask you to send us the design or logo you'd like placed on your dessert cups or custom branded soup cups.
We'll take the art you send over and create a proof of the proposed design so that you can see what your cups would look like.
If the proof looks good and you give us approval, we'll send over an invoice to start production. Production will begin once the invoice is paid. We'll then send you the finished dessert cups or custom-printed soup cups upon completion.
Ready to Order?
Our brand ambassadors would love to help you grow your business and expand your brand reach with custom-printed dessert cups or custom-printed soup cups. Simply click the "Live Chat" button below, call (888) 373-4880, or submit a quote request to get started.
If you have any other questions, feel free to ask! We are here to serve your business.